The forthcoming releases from United Progressive Fraternity, dubbed 'the most communicated albums ever made', are an ambitious undertaking that unites the Fraternity in the recording of two CDs worth of material that will delve deeper into the environmental issues that we all face as a united world.
The albums, titled 'Planetary Overload 'Part 1: Loss' (mid 2018) & 'Part 2: Hope' (mid-2019), will focus on the problems we are already beginning to encounter on a troubled planet and expected to face with increasing severity in the near future, and taking immediate positive action to mitigate those effects to ensure humanity's survival.
United Progressive Fraternity: Band Bios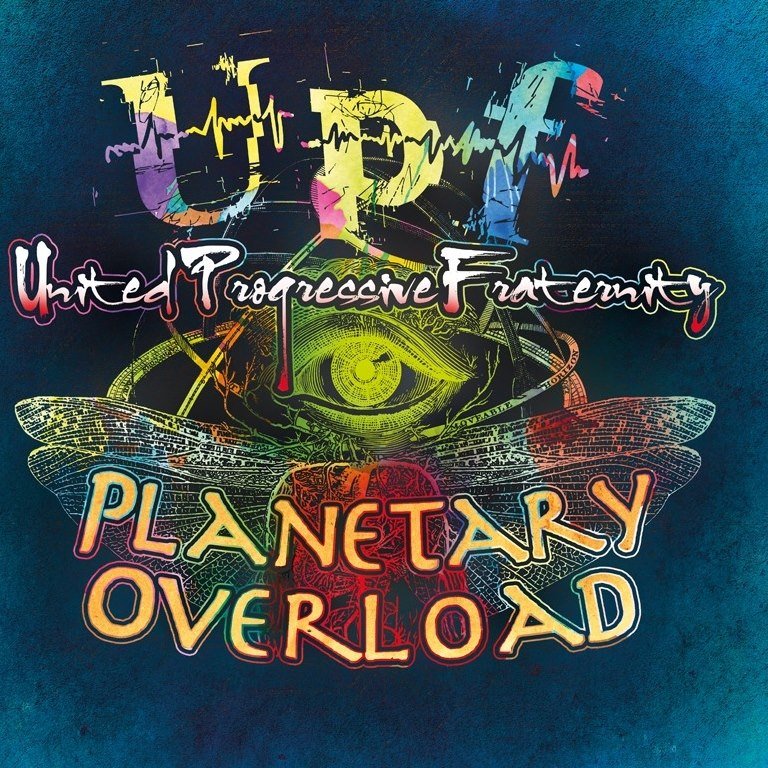 (Vocals, Artistic Direction, Songwriter, Co-Production)
"UPF – Why the United Progressive Fraternity? My original concept for this group was to make this a Universal project, allowing not only the members to come and go as they please, but also inviting the listener to share ideas on what they would like to hear, in other words making UPF the people's group. It may sound a little odd, but when I read messages on various comment boards, it is apparent that people love to share their points of view; in some cases feedback can be very constructive and help in making the music and the message much more important.
There are bands all over the world who like to express their concerns and worries with what is happening to our world; for example social injustice and the environment we live in. Some have been very successful (i.e. Peter Gabriel, U2, Sting, just to name a few) so how can a project like this be any different? In my eyes, I see that if people are willing to share their inner thoughts and have enough courage to accept different ideas and expand on them we can make a difference. Our planet is not happy in so many ways, our climate is constantly changing, religious intolerance leads to conflict, bloodshed, and outright war in an already unstable social system, and our countries misunderstand each other, leading to mistrust and risk of further instability.
As the world and civilisation evolve, conflict appears more and more inevitable and our environment harder to live in as climate change takes its toll. If projects like ours can make a difference and if we can involve our friends and other lovers of music then we will have a better world..
Fall in love in the World, let the world fall in Love"
Having a unique voice, rich in character and tone has helped singer/songwriter Mark Truey Trueack to realise a life-long dream of a career in the music industry. From the mid 80's to early 90's, Mark worked on the other side of the industry gaining valuable insight & knowledge as a record company executive for EMI Music.
Also at that time, he pursued his passion for performing by re-creating a Genesis tribute show, 'The Genesis Touch'. Highly regarded nationally, the group consistently played to packed houses.
While living in Sydney, Mark began his song-writing career with local producer, Matt Coxhead, penning two fine songs, 'Time For Change' and 'This Life'. Returning to Adelaide in 1996, Mark was introduced to Sean Timms by a mutual friend, who noticed the similarities in their musical tastes and personality. After a night on the town & a few beers, the two began a song writing partnership that continues to this day.
Since the formation of Unitopia, Mark has also had several other opportunities to perform, most notably the John Lennon memorial concert on the anniversary of his death in late 2005. Although still working as an executive, Mark always hoped to one day make music his full time occupation as it was already his full time passion.
He is married to his wife of 36 years Cheryl, and they have two talented daughters, Holly (who has a cameo appearance on Justify) and Brittany. A keen surfer, Mark's love of the sea is exemplified in the songs 'Fate' , 'Inside The Power', 'Water' and 'Fall in Love with the World'.
As co-founder of Unitopia, Mark was integral part of the process, not only as a world class vocalist, innovative songwriter, creative co-producer and morale booster, but as a relentless driving force behind everything that Unitopia has achieved thus far. The passion he injects into his music is endless (as is his sense of humour!) and his knowledge of the music industry and record companies in particular has given Unitopia a wealth of knowledge from which to draw, making the journey forward an exciting one.
As the end of Unitopia became a reality in early January 2014, Mark had been working on a side project called "The HOPE" back in 2011 with Stephen Layton who was living in a remote area deep in the Blue Mountains of New South Wales, in order to discuss some potential song ideas. Stephen's undoubted song arrangement talents in combination of with Mark's creative vision gelled perfectly.
Stephen had been working on a couple of projects with former Yes lead vocalist and composer, Jon Anderson ("Survival and other Stories" and the sequel to Jon's classic "Olias of Sunhillow") and he soon realised that perhaps there could be a real opportunity to bring the two voices of Jon and Mark together. Stephen contacted Jon Anderson and asked him if he would be interested in working on this project. The piece that was selected to test this exciting collaborative prospect was called "Water".
The underlying musical content of United Progressive Fraternity ( UPF) is not that dissimilar to that of Unitopia however the sound is much edgier. Having several producers and songwriters within the core group certainly gives the listener a banquet of textures and moods.
"Fall in Love with World" was the first UPF release in 2014, containing over 60min of music that takes the listener on journey of self-discovery. The album was officially launched at the UK's Summers End Festival in Autumn 2014. For the second album, a songwriting contest was sponsored by the band, and two albums worth of material were written, and are in the process of being arranged for the second UPF release, Planetary Overload (PO). It was decided to present PO in two parts: LOSS, and HOPE. By May 2017 the arrangements for Part 1: LOSS are nearly completed and being sent to the various musicians that are guesting on the album.
The other project Truey has been working on is 'The Romantic' with Frenchman Chris Lebled and Steve Unruh. They have already experimented with songs from the Unitopia and UPF catalogue with great results, and songs like This Time, The Great Reward and Fall in Love with the World have totally new soundscapes and presentation. Two new songs, New Beginnings, and Avalon of Love are also being written. The First Kiss will follow. A total of 12 songs will make up this album.
Mark has also worked contributed his vocal talents most recently to songs performed by The Samurai of Prog (Ghost Written) and Oliver Rüsing (The Impossible), among others.
(Executive Producer, Engineer, Mixing, 
Guitars, Keys, Programing, Orchestration)
"As we humans evolve as a species, our technology and ambitions are our key motivators that propel us into the future. Unfortunately, along the way, these leave behind a trail of destruction. It begins as unintentional – the depletion of our resources was an unforeseen outcome when we wired up homes to electrical power grids, and the slight rise in global temperature was never considered when we first manufactured the automobile.
But in recent years, the same advancements of technology have been used to study its own impact on the environment and the truth is now indisputable. But it doesn't mean technology and ambition for our species is bad. It's a matter of changing. Developing smarter and cleaner practices. This can only be done once there is mass awareness and we are still at the stage where spreading the word to all corners of the world is necessary. And what better way to communicate this truth than music, the greatest communicator? Music is the language I speak best and the clearest way I can help."
ABOUT
Cornel Wilczek is an Australian award winning screen composer and music producer. He is driven by experimentation and the desire to find something new in music. Working with colour and contrast, he combines lush, acoustic sources with home-made electronics to take listeners to new places and help create unique worlds for his projects.
His feature film work includes 'Cut Snake', 'These Final Hours' (Best Score at Festival International Du Film Fantastique de Gérardmer), 'The Mule' and Academy Award winner, Eva Orner's upcoming 'Chasing Asylum'. His TV work includes Glitch (AACTA Award for best music score in television), Offspring (TV Series),  and the international award winning children's show 'Nowhere Boys'. His music production work includes 2015's (AMP Awards nominee) 'Severe' by My Disco, Wagon's 'Rumble, Shake and Tumble' and his own electronic music under the moniker 'Qua'.
Cornel runs and owns Electric Dreams Studio (opened 2009), in South Melbourne, Australia. It is a high-end, acoustically designed space that facilitates creative development, broadcast composition and mixing, surround for TV and film, as well as album production. The studio houses 9 employees, including producers, composers, sound-designers and engineers. He has an MA (2007) in Sound Art, RMIT.
HISTORY
Cornel's love for music and film began in Adelaide as he obsessively studied his favourite films and played in many bands. He studied guitar through most of his childhood and teen years, beginning with classical guitar and eventually spending a lot of time in the metal scene, where he enjoyed the camaraderie and musical extremism.
He moved to Melbourne in 2000 to study Music/Sound-Art, with mentors Philip Brophy and Philip Samartzis at Media Arts, RMIT. During this time he formed the moniker Qua and released 4 albums of experimental electronic music that led to national and international touring.
After his BA, he went on to complete his Masters, majoring in composition in surround. After many years working from a home studio, writing for short film and producing bands, Cornel built his commercial studio and business, Electric Dreams Studio, in South Melbourne. During the first 4 years of Electric Dreams, Cornel scored over 150 TV Commercials and won many Awards including Gold and Silver at the London International Awards.
2014 saw an AACTA Nomination for his first TV show, the teenage, mystery/drama "Nowhere Boys" (Matchbox Pictures) and in 2015 he won Best Original Score for the feature "These Final Hours" at the Festival international du film fantastique de Gérardmer (France) and later that year went on to win an AACTA Award for BEST ORIGINAL MUSIC SCORE IN TELEVISION for GLITCH – 6-part Supernatural/Drama "Glitch" (dir. Emma Freeman In 2016, Cornel is scoring season 6 of Offspringand season 3 of Nowhere Boys.).
MUSIC TO FILM AND TV
In 2012 Cornel completed his first feature film soundtrack for the Australian film "Save Your Legs" (released Feb 2013). Later in 2013, he worked and completed two other films, Zak Hilditch's apocalyptic thriller"These Final Hours" and Angus Sampson's drug smuggling, intestinal thriller "The Mule". In 2014 he composed the thriller/romance "Cut Snake" (released 2015) for Tony Ayres and contributed to the Award winning Feature Documentary "That Sugar Film". 2015 he scored the film "Nowhere Boys – The Book of Shadows". 2016 saw the release of his latest Soundtrack to Academy Award Winner – Eva Orner's film"Chasing Asylum".
In 2013 he also began his TV career with the music for Nowhere Boys, Matchbox Pictures (first screened in Australia Nov 2013), in which he received his first AACTA nomination for best Australian Original Music Score for TV. In 2014/15 he completed season 2 of Nowhere Boys. In 2015 he won an AACTA Award for BEST ORIGINAL MUSIC SCORE IN TELEVISION for GLITCH – 6-part Supernatural/Drama "Glitch" (dir. Emma Freeman). In 2016, Cornel scored season 6 of Offspring and season 3 of Nowhere Boys.
Other soundtrack work includes internationally award-winning animations "The Luminary" (Nick Kallincos) and "Kings of Power" (Paul Robertson).
Cornel is also renowned as one of Australia's most in demand composers for the advertising industry, having scored over 150 TV commercials both locally and internationally. His work in this sector has been recognised with multiple awards. More info on current projects and copies of viewing material can be delivered in person or by email.
ELECTRIC DREAMS STUDIOS
In January 2009 Cornel opened his commercial sound and music studio in South Melbourne to accommodate and consolidate all his sound production. Electric Dreams Studios is a high-end, acoustically designed space (engineered by Chris Morton) that facilitates creative development, broadcast composition and mixing, surround for TV and film, as well as album production. The studio houses 9 employees, including producers, composers, sound-designers and engineers. It has a unique combination of analogue and digital equipment. From large ensemble string
recordings, to electronic scores, the facility can accommodate just about any production.
SOLO MUSIC ARTIST
Cornel has released four albums under the alias Qua on labels in USA, Japan and Australia. Touring internationally as a live performer since 2002, Qua performance highlights include two of Australia's biggest Music Festivals – "Golden Plains" and "Laneway Festival" in 2007 and 2008. He has also played at Liquid Architecture (National 2003), O'Nest (Japan 2005), Sydney International Arts Festival 2009 and Perth Arts Festival 2010. Cornel's work has also been exhibited in sound installations at international galleries such as San Francisco Museum of Modern Art, ACMI & CCP.
RECORD PRODUCTION
As a Record Producer Cornel has produced and engineered over thirty albums for local and international artists including two award-winning albums for The Wagons: "The Rise and Fall of Goodtown" and"Rumble Shake and Tumble". In 2015 he produced My Disco's "Severe". He has also produced for Clare Bowditch, Architecture in Helsinki, Miaou, World's End Press, Mountains in the Sky and PVT.
(Keyboards)
"Music's potential to communicate ideas and touch the soul should be harnessed to the full, and there can surely be no bigger idea worth communicating than the dangers facing the only habitable planet we know of. I'm honoured to have been invited by Truey to contribute to this important project, and to help alert the world to facts that profoundly affect each and every one of us."
Composer, keyboard player and producer Nick Magnus is best known for his work with ex-Genesis guitarist Steve Hackett from 1978 to 1989, providing his keyboard talents to at least twelve of Hackett's albums to date, as well as extensively touring Europe, the UK and the US.
Nick started his musical career in early 1976 with the cult symphonic rock ensemble, The Enid. At the end of that year, he and drummer Robbie Dobson left The Enid to spend two years with the progressive rock band Autumn. On February 15th, 1999 Autumn released a Mini CD of their material originally recorded 23 years ago, entitled Oceanworld.
He has released four previous solo albums of his own compositions: 'Straight On Till Morning' (1994), 'Inhaling Green' (1999), 'Hexameron' (2004) and 'Children Of Another God' (2010). A live album with John Hackett was released in March 2011. Nick's fifth solo album 'N'monix' was scheduled for release on April 28th 2014.
The latter half of the 80's was spent doing session work with many diverse recording artistes such as China Crisis, Renaissance, George Martin, Mungo Jerry, Johhny Mars, Cilla Black, Jose Carrerras, Brian May, Richie Havens, Bonnie Tyler, Mike Batt, Classix Nouveaux, David Essex, Pete Bardens (Camel), Duncan Browne, Chris Rea, and Colin Blunstone.
The 1990s saw album chart successes for Nick's co-productions of the Project D Synthesiser albums. He also achieved platinum sales for his productions and arrangements for the internationally acclaimed series of Pan Pipe Moods albums, released by Polygram records.
Further productions include two albums by Celtic Spirit : Celtic Dreams and Celtic Dreams 2, both of which have enjoyed international success. 'Is That Your Final Answer?' was Nick's 2000 dance remix version of music from the smash-hit TV gameshow 'Who Wants To Be A Millionaire?'. Subsequently in 2007, he was commissioned to produce an 'energised' re-recording of the theme music for 'Millionaire' which is currently being broadcast on the show in the UK. Throughout the summer of 2001 audiences applauded the new arrangements of Lennon and McCartney songs Nick contributed to the West End musical, 'All You Need is Love'.
As well as a varied history as a composer, producer and arranger, Nick also penned the soundtrack to the cult horror movie "Bloody New Year", directed by Norman J Warren (Inseminoid, Terror, Satan's Slave, Prey). As a result of contributing to numerous other works for film, TV and radio, Nick has since gained much experience in working with music to picture.
He has also delivered lectures and seminars on many aspects of music technology and music production, whilst also writing diverse articles on these subjects for the music press.
(from http://www.magnus-music.com/biography.htm)
(Guitars)
"My interest in UPF is more than just the music. I have seen pristine coral reefs and then returned to the same places later to find the coral devastated by weird temperature changes in the sea. I visited an Orang Utan rehab centre in Sumatra, mountain trails in the Himalayas, untouched islands in Asia, etc. Sadly, all of these places are now suffering climate problems, massive increases in tourism or war. I've seen it and don't like it!"
In the last 2 years I have been working with many wonderful musicians on albums under the "Colin Tench Project" (CTP) name. Right now the drummer is Joe Vitale (Joe Walsh, Eagles, CSN etc), a true statesman of rock.
The prime singer on both albums is Peter Jones (Camel, Tiger Moth Tales etc), another stunning musician and human being. Through meeting Mark Trueack, I had the luck to find Gordon Bennett, who is now my main collaborator in music, so I have to thank Mark for being the centre of so many good things and even hope that he will honour us with his magical voice one day!
I am also known by some, as the guitarist in Corvus Stone. We tend to play rock music with a touch of just about everything, and often instrumental only. Some say retro. It probably is but not by design.
I love varied music. I grew up with the music of the 60s & 70s in London. It was surprising, fun and it encompassed almost every form of music known. We now call that no rules approach, "Prog".
I was not involved in actually playing music until the 80s and that was a mistake! Progressive music was not wanted much back then, so 3 years gigging in London with Odin was almost doomed to failure, although we very much enjoyed it.
In 1985 three of us from Odin plus a singer from Los Angeles formed BunChakeze and recorded an album with no help or backing. Again it was great to do but the wrong time. Record companies all showed us the door without listening even.
I began to focus more on work and my other passion: Travel. I love discovering new places, Mountains, Deserts, Jungle, "Real things". I spent as much time as possible, travelling all over the world. The fact that I was ever in a band became a distant memory.
I can claim for certain, that I was the first backpacker in Afghanistan with the album "Animals" on cassette in 1977. I left a copy of it in a cafe there. I have always forced good music on people! I now live in Sweden, probably the last wilderness in Europe and have fallen headlong into music again.
I started by releasing the BunChakeze album "Whose Dream" 25 years late.
(2012) Corvus Stone released our first 80 minutes album
(2012) I played guitar on The Road To Avalon with " The Minstrel's Ghost" Blake Carpenter(a regular with Corvus Stone) and the great Zoltan Csörsz Jr played drums.
(2013) Produced and played guitar on "Return to Mingulay" with Andy john Bradford's Oceans 5. This is a folk based band but with a difference. Vic Tassone (Unified Past) on drums & Marco Chiappini (also on the Road to Avalon) played keys. We were honoured to have Pink Floyd's Lorelei McBroom was a guest on the single.
(2014) Corvus Stone II, our 2nd 80 minute album was released
During this time I also played guitars on a semi classical piece called "Wish you could Hear" with Andres Guazzelli, who was also a guest with Oceans 5 and Corvus Stone.
(2014-2015) I did some production and guitars with the band Transmission Rails, which will see a full album in the future. Stef Flaming plays most of the instruments and he was the bass player in Oceans 5 and guest also with Corvus Stone. Our guest drummers so far have been the amazing Joe Vitale (Joe Walsh), and Gary Lynn Hodges (Stevie Nicks, Lindsey Buckingham)
2015 Corvus Stone Unscrewed was released
This year (2017), I joined Steve Gresswell's Coalition as guitarist and that album is about to be released.
I have been working on some music for UPF with Steve Gresswell of Coalition and Petri Lindström, the bass player of Corvus Stone.
Yes I have been busy!
I would say that my approach to music is about getting the right notes or additional melodies to add something to a composition. In Corvus Stone, we all play what we want and that results in something that is unique. You actually can hear that we are all different kinds of musicians. So we end up with a new recipe for every song we do. I also mix our albums and have no equipment at all really. I use my ears and very basic tools and those tools are way easier to use than the 4 track studio world not so long ago. I am not avoiding technology, I just find that it usually sounds bad and takes the life away from music rather too often.
We all have music in us, tho' nobody knows why. A simple sound, the right note, a magic phrase. That's what I try to get. That is me!
(Guest Arranger)
Guitarist / Synth Guitarist / Bass Guitarist / Composer / Producer
"First and foremost I'd like to say It's truly an honor and a pleasure to be able to work with such a great artist, musician, and advocate as Mark Trueack truly is. Being a part of this global fraternity "United Progressive Fraternity" and the stellar musicians and artists that are collaborating as well as their vision and awareness of that which is greater than all of us is incredibly inspiring and rewarding on a personal level. I feel being a part of UPF will allow me to grow in more ways then just musically, as it allows me to be able to contribute to something far greater then one person can achieve of his own doing using music as a vehicle to help achieve the vision, goals, and ideals of The Fraternity in a collaborative and global effort. We have all been given choices in life, and those choices we make are what truly define us as individuals. What we do and how we use what we have been given with respect to this beautiful earth of ours, or anything that we do in our life regardless of how large or small our contribution is, is our responsibility for future generations to come."
Gordon 'Gordo' Bennett, an American guitarist picked up his first guitar, a $15 acoustic, at the age of 10 and immediately fell in love with the instrument and had to have it. Finally with enough pleading convinced his mom to buy it for him. "Thanks Mom!"
By the time the mid 70's rolled around Gord being 16 was able to get his first electric guitar and amp. Being influenced by the likes of Genesis, Rush, Pink Floyd, Jethro Tull, Deep Purple, etc. Gordo was soaking up the musical atmosphere of the time. Then the awakening came in his mid 20's, discovering bands like Return To Forever, Mahavishnu Orchestra, King Crimson and Frank Zappa putting Gordo on a musical path he is still on today.
Now playing guitar for over 45 years, and having played in various rock and progressive rock bands through the years. Gord became more interested in synth guitar, electronic music, midi and audio recording and the production of music. Finally being able to build his first full fledged recording studio in the mid 90's boosting 32 tracks of pristine digital audio Gordo's musical dream was at last a reality. Gordo has recorded and produced several of his own albums over the years including, Electronic New Age, Acoustic New Age, Rock and Progressive Rock Albums.
Gordo's main guitar influences include Robert Fripp, John McLaughlin, Steve Hackett, Adrian Belew, Frank Zappa, and Alex Lifeson, with all of them leading him into guitar synthesis.
2014 – 2015 was a pivotal year defining Gordo musically, finding his musical niche, and fitting comfortably into it. By going back to his roots and searching out what he truly loved and wanted to do musically, he left the band he was currently in and began composing and recording music without boundaries. "I find solace and completeness in composing music" "It defines me for who I am" he says. Incorporating symphonic and classical music into his writing has been a vision of his for some time stemming from his love of classical music. This all leading him into the writing and recording of his album 'Fun In OuterSpace' released June 2015. All the music on this album was composed & performed by Gordo using a Godin synth access guitar and a Macbook. All of his projects are produced & recorded at GorMusik Studio's.
In September of 2015 Gordo was asked to collaborate on the release of Ron Marquiss new album "One Or The Whole", composing the title track, a 12 minute Symphonic Rock piece for the album, with contributions from Robert McClung and Ron Marquiss on the piece. The project is a concept album, with spoken word and narration, the brainchild of Ronald Marquiss / M Destiny including a host of many great Friday Night Progressive artists on the album.
At the same time in 2015 Gordo was approached by Mark Truey Trueack to see if he'd like to work on some music for the upcoming United Progressive Fraternity Album 'Planetary Overload' and was extremely happy to contribute to such a huge project. The arrangement written will feature some incredible talent on it and is entitled 'Seeds for Life' which will be on the Planetary Overload album – 'Part 1 Loss' slated for a 2018 release. Also Gordo is currently working on another arrangement for the second Planetary Overload album, 'Part 2 Hope' of the 2 album project.
2016 – 2017 brought more opportunities for Gordo to work his orchestral skills with Colin Tench on his Album 'Hair in a G-String' which was released September 2016 featuring a host of many talented musicians and vocalists.
In between working with Colin Tench Gordo was asked to score orchestra on a track entitled 'As You Do' for Joshua Leibowitz for his single track released in November 2016.
January 2017 saw the first single release for GorMusik's GorFusion album featuring the bass playing of Joe Serwinowski for that side project with several more tracks currently in production.
March 2017 brings Gordo back to the Colin Tench Project. Now with a core band being established, featuring Peter Jones on Vocals (Tiger Moth Tales, Camel), Joe Vitale on drums (Joe Walsh, The Eagles), Petri Lindstrom on bass (Progeland, Corvus Stone), and now Emmy Award nominated vocalist Joey Lugassy the work has begun with Gordo scoring more orchestral arrangements for the upcoming project with Colin Tench on guitars piano and production (Corvus Stone, Bunchakeze). The new album 'minor Masterpiece' is slated for a 2017 release.
Currently Gordo is also working on several recording projects of his own ranging from Symphonic Progressive metal, Hard Rock, Fusion, Acoustic, and New Age music with more on the way for future release.
GorMusik on the web
http://www.gormusik1.com.hostbaby.com/index/
GorMusik on FB
https://m.facebook.com/GorMusik-434451266724178/
GorMusik on Bandcamp
https://gormusik1.bandcamp.com/
(Guest Arranger)
"There is no doubt concerning the overload of the planet, and no doubt about the Hope, as well. Working on this project has meant a huge effort to translate my love for the planet, and my great hope, into music. I will always thank Mark and the whole staff for this opportunity. Until then, we will be hoping we will make music, and where there is music, there will be hope."
Ettore Salati (born April 29, 1974) is a guitarist, multi-instrumentalist, composer and producer from Milan, Italy.
He is best known for his work with The Watch, Alex Carpani, David Jackson, Aldo Tagliapietra, Karl Potter and many others.
He has been part of The Watch from 2000 to 2007, then entered Alex Carpani Band till nowadays and had frequent side-projects collaborations with the above mentioned artists.
He has been featured in several progressive rock world-released albums and has produced many full-lengths, including SoulenginE's "Mind Colours" and The RedZen's "Void".
Since 2000 he tours Europe, North, Center and South America and Japan, playing live in the most world-renowned progressive rock international festival, like Baja Prog, RoSfest, Prog'Sud, Trieste Summer Rock Festival, Progday International Festival, Prog Exhibition, Nisville Jazz Festival, Gong Prog Fest, Fasano Jazz Festival, Virada Cultural and many others.
"I think that the UPF project has a strong and very important message for all of us, beside its wonderful music side!… Being a visual artist behind the project, I am not only inspired and impressed by all of project's music beauty but I also want to embody UPF's ideas, so touching and smart: it's something for the people's heart, soul and mind. Everything is united! I am really very happy to be involved into this the great movement with this great musicians…. Thank you a lot to all!…." With Love! Ed Unitsky
Ed Unitsky is an international digital visual artist, known for his complex and captivating surrealistic art and primarily for music progressive album artworks. His artwork expands the mind creating an imaginary journey into the fantastic realms.
Ed's cover music art has been like with the likes of Roger Dean, Storm Thorgerson, Salvador Dali, Michael Whelan, H.R. Giger and many other prestigious master fantasy artists and is being touted as the modern day Salvador Dali. Ed's creative range is remarkable. His unique signature style resonates an old world influence with an innovative Pop Culture flare.
Ed's creative abilities began when he was small child. After years, of painting, sketching, doing large scale mural work, airbrushing, and many other mediums, in 2002, Ed sat down at a computer to apply his artistic capacity. Instantly, he fell in love with this new digital forum to create his ideas. Digital artistry has become a medium which has expanded his artistic range enormously.
Ed is an artistic master of digital painting, collage creation and photo manipulation. His creations continue to amaze and inspire all those who become familiar with his artistry.
In addition to his CD cover artwork, Ed has an extended collection of spiritual artwork, which is gaining recognition worldwide.
Ed has created a lot artwork pieces in these few short years and continues to create incredible artwork for more that 150 CD, Album Covers while expanding his artistic energies to his personal artwork pursuits.
Ed is always available for artworks, illustrations CD / DVD / VINYL / book cover & booklet, layouts and more….
Welcome to Ed's web-pages:
www.facebook.com/ed.unitsky
www.facebook.com/Ed.Unitsky.fanpage
www.edunitsky-store.com
www.youtube.com/EdUnitsky
(Touring/PR Manager)
"In February 2017, I turned 50 and by Victorian standards that basically means I am now in extra time. If I want to make a difference I don't actually have that much time left. But don't think that means I want to make a mark, no, my future will be dedicated to the exact opposite, that of not leaving a mark. Unfortunately I start out with a severe handicap – my mere existence has already been a bigger burden on the planet than it should have been. I have added to the damage done to the atmosphere, plastic I have bought has without doubt found its way into our oceans, my carbon footprint can probably be seen from space, yes, I have already left my mark."

All of our actions and choices have an effect on the world around us. UPF reaches out through music to spread a sense of awareness and ultimately of hope that it isn't too late to turn the tide. I'll be honest, when I was first asked to become part of the UPF team I didn't initially realise the full extent of the impact it was about to have on my way of thinking and living. I know it won't fail to affect other people in the same positive way."
Octavia is one of the 80 or so volunteers who every year put together Italy's biggest progressive rock event, the 2Days Prog + 1 Festival held every September in Veruno, Piedmont. She became a familiar face and name on the Italian Prog scene in 2014 when she was asked to step in at the very last minute as the festival's co-presenter where, for the benefit of the non-Italian speaking members of the audience, she introduced the bands in English alongside her Italian speaking counterpart .
It was here that the seeds were sown for what was to become a lasting friendship with Swedish band, Änglagård and a working relationship with Italian band, Barock Project with whom, amongst other things, she collaborated as language consultant on their latest album, 'Detachment'.  The following year she was invited back to become the Festival's sole presenter, introducing the bands in both Italian and English. It was at the 2015 edition of the festival that she met and subsequently 'adopted'  Italian band Syncage, recently signed to Bad Elephant Music, with whom she works constantly as advisor and PR.
In 2016 she launched the festival's official Facebook page and actively began promoting the festival and all participating bands on social media. "Being the festival's presenter was a great privilege but it never felt quite right to just turn up on the day and walk on stage, so spreading the word and making sure the world knew what we were doing became an everyday challenge. It's  great to be part of the organization process, there's an amazing team behind this Festival and I'm so incredibly proud to be a part of it".
Earlier this year she began another working relationship with Italian band, Syndone, again thanks to her Festival work.
"The best thing about festivals is the people you meet, both musicians and members of the public. It's quite an incredible community we operate in. It was at another festival, this year's edition of RoSFest to be precise, that I met Mark Trueack.
We immediately hit it off as we discussed music, life and other things over a beverage purporting to be coffee in the hotel we were both staying at. Sometimes you just know when you're on the same page as someone. Having said that I was still surprised when he invited me to become a part of the UPF project  but hey, when you get asked to be part of something this exciting who am I to say no? I did hesitate for a moment but only a moment, on the whole I'm pretty impulsive so if it feels right, I tend to do it first and think about it second! I'm really looking forward to seeing where this will take us".
(Logistics,Video/Promotional Manager, Mark's Sidekick)
"I give my time freely to support the cause of awakening and activating a change in mindset that is necessary to save the human race from self-annihilation. For me there is no better way to spread the message than through the creative musical talents of 'The Frat' (UPF) created by Mark Truey Trueack."
Ted has been fascinated by progressive rock since the early 70's starting with a flurry of self-discovery with albums such as Queen (Sheer Heart Attack), ELP (Welcome Back My Friends…), and avalanching into Kansas (Leftoverture), Rush (A Farewell to Kings), Blue Oyster Cult, Alice Cooper, Renaissance, Gentle Giant, Genesis, and on and on. Going to university in Boston provided ample opportunity to hone a collection of both new and second-hand vinyl masterpieces. Concerts at the Boston Garden were cherished events.
Fast forward to 2006. MySpace opened up a plethora of first contact opportunities with frontmen and managers of various cover bands, and Ted quickly seized the opportunity to curate a collection of prog rock videos online. He then began blogging and interviewing various personalities including roadies, album cover designers, etc. Eventually he befriended and interviewed rock royalty such as Paul Bielatowicz (Neal Morse, Carl Palmer Band), the late Tony Ortiz, Damon Shulman (son of GG's Phil Shulman). He collaborated with Anne Leighton on a Gentle Giant project, and has met up with both Paul Whitehead and Leonardo Pavkovic (Moonjune Records) when they were passing through Singapore. He did a 40 minute phone interview with Orianthi Panagaris in 2008 (she was an unknown recording her first album, pre-Grammy performance with Carrie Underwood), and enjoyed chatting with Nikki Squire (Esquire) in both English and Spanish.
Along came Facebook, and Ted became the co-administrator of the first Orianthi FB fanpage, and provided publicity/promotion for Moonjune Records. Working on a project in collaboration with Olga Potekhina (Ed Unitsky fanpage), he was in contact with several of Ed's best known clients, including David Rohl (Mandalaband), and Mark Trueack (Unitopia). This is how he first met Truey.
Several years and many interviews/websites later, United Progressive Fraternity announced their first single "The Water". Ted chatted up his friend Truey and offered his services, and the next thing he knew, was given the keys to the website. Since 2014 their friendship and deep understanding of one another's causes and concerns has rung true in many senses, musically, graphically (Ted now produces the band's music videos), lyrically (Ted has co-written the lyrics for the epic 'Seeds for Life'). In addition he managed the lyrics contest for Planetary Overload (PO), and connected with none other than the 'father of climate change', Dr. James E. Hansen who agreed to be involved in support of UPF's message on PO.
For the music video 'Fall in Love with the World', Ted arranged for many of the future guest arrangers and musicians on PO to record footage. The video features Kristoffer Gildenlöw, Phil Naro, Steve Unruh, Joanna St. Claire, Owen LeLean, Dale Nougher, Ben Craven, Jose Manuel Medina, and of course, Truey.
For the music video 'Travelling Man (The Story of ESHU)' he liased with several award winning international producers of live action, animation, stop motion, and cgi (Blender) short films to create a 20+ minute mini-movie featuring live band footage from UPF's 2014 European tour (6 cameras). Steve Hackett filmed a guest spot for the video also.
Ted now produces music videos for The Samurai of Prog (Marco Bernard, Steve Unruh, Kimmo Pörsti), DAMANEK (Guy Manning), Interpose+ (Sayuri Aruga, Japan), Paidarion (Kimmo Pörsti), Unitopia (2017 box set). He created the video projections for U.N.I.T.db (RoSfest 2017) for the Unitopia songs 'The Garden', 'Tesla', 'Suffocation/Artificial World', and 'The Great Reward'. Other video work includes syncing a Skype audio feed from Pennsylvania with camera footage from UPF 'live in the studio' in Adelaide, Australia for Marty Dorfman's Progressive Coffeehouse.