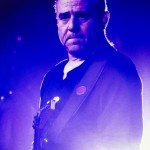 (Guitars, vocals)
Nick has been involved in music in some shape or form for what seems forever; playing in numerous cover, tribute and corporate bands.
He is currently with popular corporate band 'AudioBox'.
Nick says,
"My greatest love is that of original music, particularly with a strong message, and with UPF nothing is more important than saving our planet, and the music is the vehicle delivering this message."
In Progressive Rock anything (almost) goes, so when you love lots of musical styles it's a buzz to be involved.