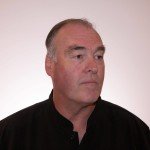 (Vocals, artistic direction, songwriter, co-production)
"UPF will always invite special guests aboard for albums. This open door policy will allow me to use producers and musicians as the music dictates whilst also allowing each and every musician involved a chance to put their own individual stamp on the music."
Having a unique voice, rich in character and tone has helped singer/songwriter Mark Truey Trueack to realise a life-long dream of a career in the music industry. From the mid 80's to early 90's, Mark worked on the other side of the industry gaining valuable insight & knowledge as a record company executive for EMI Music.
Also at that time, he pursued his passion for performing by re-creating a Genesis tribute show, 'The Genesis Touch'. Highly regarded nationally, the group consistently played to packed houses.
While living in Sydney, Mark began his song-writing career with local producer, Matt Coxhead, penning two fine songs, 'Time For Change' and 'This Life'. Returning to Adelaide in 1996, Mark was introduced to Sean Timms by a mutual friend, who noticed the similarities in their musical tastes and personality. After a night on the town & a few beers, the two began a song writing partnership that continues to this day.
Since the formation of Unitopia, Mark has also had several other opportunities to perform, most notably the John Lennon memorial concert on the anniversary of his death in late 2005. Although still working as an executive, Mark always hoped to one day make music his full time occupation as it was already his full time passion.
He is married to his wife of 36 years Cheryl, and they have two talented daughters, Holly (who has a cameo appearance on Justify) and Brittany. A keen surfer, Mark's love of the sea is exemplified in the songs 'Fate' , 'Inside The Power', 'Water' and 'Fall in Love with the World'.
As co-founder of Unitopia, Mark was integral part of the process, not only as a world class vocalist, innovative songwriter, creative co-producer and morale booster, but as a relentless driving force behind everything that Unitopia has achieved thus far. The passion he injects into his music is endless (as is his sense of humour!) and his knowledge of the music industry and record companies in particular has given Unitopia a wealth of knowledge from which to draw, making the journey forward an exciting one.
As the end of Unitopia became a reality in early January 2014, Mark had been working on a side project called "The HOPE" back in 2011 with Stephen Layton who was living in a remote area deep in the Blue Mountains of New South Wales, in order to discuss some potential song ideas. Stephen's undoubted song arrangement talents in combination of with Mark's creative vision gelled perfectly.
Stephen had been working on a couple of projects with former Yes lead vocalist and composer, Jon Anderson ("Survival and other Stories" and the sequel to Jon's classic "Olias of Sunhillow") and he soon realised that perhaps there could be a real opportunity to bring the two voices of Jon and Mark together. Stephen contacted Jon Anderson and asked him if he would be interested in working on this project. The piece that was selected to test this exciting collaborative prospect was called "Water".
The underlying musical content of United Progressive Fraternity ( UPF) is not that dissimilar to that of Unitopia however the sound is much edgier. Having several producers and songwriters within the core group certainly gives the listener a banquet of textures and moods.
"Fall in Love with World" was the first UPF release in 2014, containing over 60min of music that takes the listener on journey of self-discovery. The album was officially launched at the UK's Summers End Festival in Autumn 2014. For the second album, a songwriting contest was sponsored by the band, and two albums worth of material were written, and are in the process of being arranged for the second UPF release, Planetary Overload (PO). It was decided to present PO in two parts: LOSS, and HOPE. By May 2017 the arrangements for Part 1: LOSS are nearly completed and being sent to the various musicians that are guesting on the album.
The other project Truey has been working on is 'The Romantic' with Frenchman Chris Lebled and Steve Unruh. They have already experimented with songs from the Unitopia and UPF catalogue with great results, and songs like This Time, The Great Reward and Fall in Love with the World have totally new soundscapes and presentation. Two new songs, New Beginnings, and Avalon of Love are also being written. The First Kiss will follow. A total of 12 songs will make up this album.
Mark has also worked contributed his vocal talents most recently to songs performed by The Samurai of Prog (Ghost Written) and Oliver Rüsing (The Impossible), among others.